Self-Published Books
IN RECENT YEARS THE WORLD OF PUBLISHING HAS DRAMATICALLY CHANGED
Digital printing technology with print-on-demand (POD) and distribution options provided by companies like Lightening Source and Create Space, as well as e-book options, now make it possible for authors to publish their books and retain ownership of their work.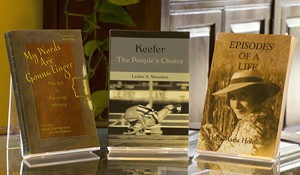 SERVICES, TOOLS, AND SUPPORT EVERY SELF-PUBLISHED AUTHOR NEEDS
Presenting your book to the world can be a daunting task, but you don't have to go it alone. Memory Works publishing can help.
OUR SERVICES INCLUDE:
Acquiring an ISBN (your book's universal identification number)
Helping you choose the best POD and distribution company for your book
Proofreading, copy-editing, substantive editing
Book design and interior formatting
Cover design and layout
Pre-press prep—creating print-ready files for upload
Creating a book description and author bio to accompany your listing on Amazon and other online bookstores
We provide one-on-one customer service you won't find at most on-line self-publishing companies. And we're only a phone call away!
Contact us today to discuss your project and various publishing options: 928-284-0222 or by e-mail