Life Story Books, Biographies, Memoirs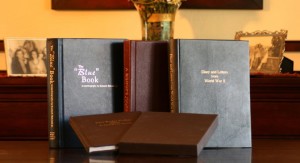 If you want a detailed account of your life but writing does not appeal to you, an as-told-to life-story book or memoir is the most appropriate format. Through a series of audio-interviews, MemoryWorks Publishing will create a manuscript in your voice that reflects your personality, wisdom, and values. If old fragile photos and documents are part of your story, we'll digitally restore those and incorporate them into your book layout along with historically relevant maps and genealogy charts. Prices for these ghostwritten books vary, depending on the number of interview hours and complexity of the project. A verbatim transcript and CDs of the unedited interviews are provided along with an edited manuscript ready for layout.
THE PROCESS
During our first meeting, we will give you a list of pre-interview questions. This questionnaire is important, as it provides us with specific names and dates that are important to you. It also provides us with a roadmap for your interviews.
A full-length life-story usually requires ten hours of interview time. Relaxed and informal, these meetings are more like conversations than formal interviews. Typically, we schedule our interviews in two-hour segments at your home. But we can also schedule two hours in the morning and two hours in the afternoon, if that better suits the situation.
Next, a transcriber transcribes the interviews, paying particular attention to nuance and meaning.
Then the editing will begin. The verbatim transcript is organized and edited into a first-person narrative that retains your true voice. When several chapters or sections have been completed, we will ask you to review them and sign off on our approach and writing style.
Once the first draft has been completed, you will review it carefully, making corrections and additions. At this time, we will begin choosing appropriate photos and documents to be used in the finished book. Then it's time for book production.

AUTHOR'S MANUSCRIPTS
Many books we receive have been written, edited, and proofed, and are ready for book-design and layout. Other manuscripts require extensive editing, copy-editing and proofing, as well as book-design and layout. Costs for projects like these vary, depending on the size of the manuscript and services needed.
After book-layout is complete, printing and binding services are outsourced to trusted high-quality companies we've worked with for years. These prices vary, too, depending on book-format size, bindings (hardcover or perfect-bound books), print-quality (off-set or digital, black & white or color), paper-quality and quantities of books ordered. We oversee the process from beginning to end.